Rinke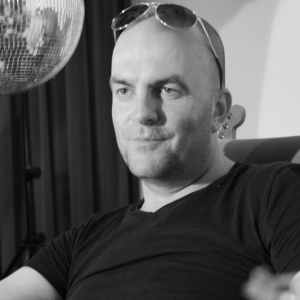 Rinke Kortenback - drummer en regelneef
Wat is je muzikale achtergrond?
Ik speel sinds zo'n beetje mijn 13e of 14e drums. Eerst op de bekende zolderkamer op het drumstel van the Notorious Paulus N; die mocht hem niet thuis hebben en ik had thuis kennelijk wat betere voorwaarden daarvoor. Na mijn 20e ben ik me (naar mijn idee :-)) wat meer gaan verdiepen in mijn instrument.. ben toen ook pas in allerlei bandjes gaan spelen. Rond mijn 30e ben ik me gaan interesseren voor de basgitaar en ben daarmee gaan optreden in een folkband. Uiteindelijk is drums toch mijn dingetje: de ultieme lolmachine :). Alles wat met overtuiging gemaakt is, luister ik eigenlijk graag naar… vooral funk, funkrock, soul georiënteerde rock. Maar ook singer-songwriter, jazz en wereldmuziek.
In welke bands heb je gespeeld?
Nou, eeh.. Guesthouse (oldschool Funk), Alles Went (Nederlandstalige rock), Zonder Meer (pop, rock, eigen werk), Sugarfree (seventies dance XXL), Grandma's Peanuts (pop), VanVerre (Irish Folk en wereldmuziek), diverse schnabbelcircuit-, jamformaties en huisbands.
Muzikale ambities?
Leren. Steeds weer verder komen; als muzikant en instrumentalist. Spelen met inspirerende mensen.
Hobby's?
Muziek maken! Motoren en auto's (sleutelen en rijden). Thuis zijn met mijn lieffies

Favoriet eten?
Als het niet lekker is mag het ook veel zijn.
Favoriet drinken?
Thee, Belgische biertjes.